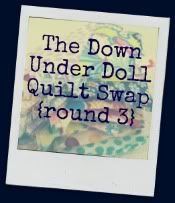 Round 3 is starting so I have joined up with Michelle on
The Quilted Tortoise
.
There's a Flickr Group
here
, if you want to take a look and maybe join (but only if you are in Australia, I'm afraid.
We are both starting to feel a bit better now, so it will be back to the sewing machine soon, for me!
Did you notice I changed the template ? It needed a break, I was tired of looking at pink! Now I need to find a different picture for the header. Any suggestions gladly accepted and thought about.